A letter from our chef:
It's a new year and we have some tasty new menu items we can't wait to share with you! In these cooler months, we all tend to crave foods more on the comforting side of the spectrum. Yet every year, once we get past the holidays, with New Year's resolutions fresh in our minds and renewed inspiration to be a little healthier, indulgent foods fall from grace, and we start to crave lighter options. With all that in mind, we created an exciting new sandwich and a new salad to fit every mood, and we'll be bringing back a few fan-favorites — all of which are equal parts hearty, nutritious and delicious, and thus perfect for the season!
Now, let me tell you about our new Chicken Parm Dip. As you'd expect, it's a riff on my personal favorite classic Italian-American deli sandwich…Chicken Parm! I applied our famous "Not So Fried" treatment adding our Mendo's krispies, a one-of-a-kind crunchy, herby, buttermilk-polenta topping to our roasted, shaved chicken breast, in lieu of the usual breaded and deep-fried chicken. Of course, this results in a significantly lighter "Chicken Parm," without sacrificing flavor or texture. For those of you who know our famous "Not So Fried" Chicken sandwich, you can expect the same craveable crunch from the krispies! This is how it comes together: we toast our sesame roll and slather it with a deeply flavorful Calabrian chili aioli, but don't worry it's only mildly spicy. Then we top it with roasted, shaved chicken breast, which has been passed through our oven with the krispies and smothered in gooey melty whole milk mozzarella cheese. Next we hit it with just a splash of pomodoro sauce, and layer on a handful of fresh basil leaves. Close it, cut it, send it…with a side of warm pomodoro sauce for dipping! Will you take the plunge and dip into your best life with our new Chicken Parm Dip?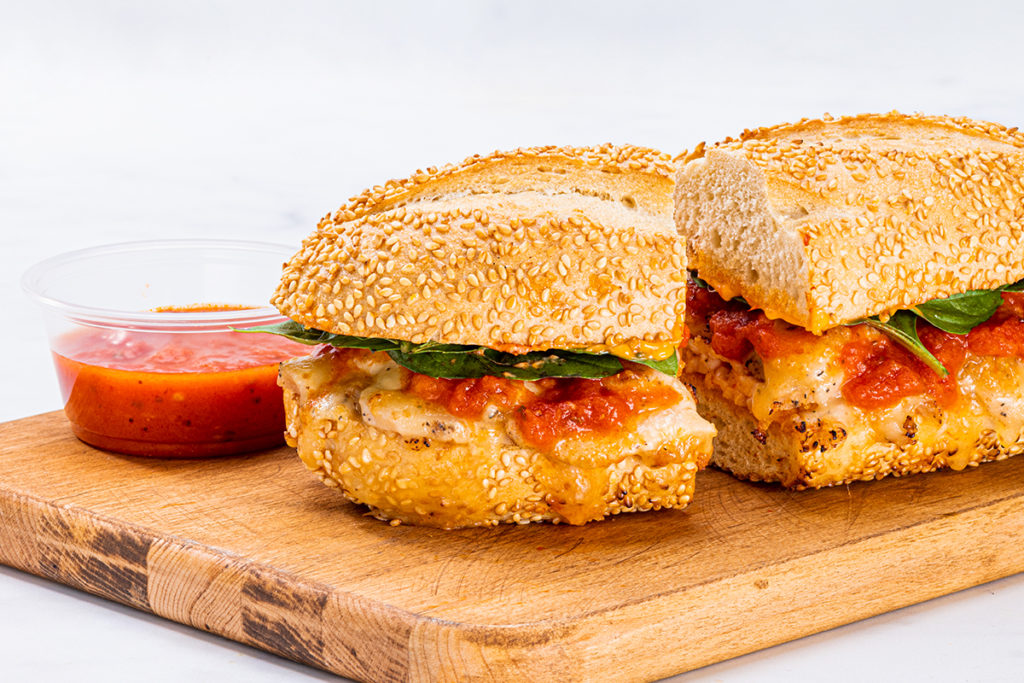 Many of you have noticed that a few months back we removed our Cobb Salad from the menu. Well, I'm relieved to finally tell you that we did so knowing that we had already developed a more delicious and more unique version of a Cobb, which is finally ready to debut as a seasonal salad. We call it the Countryside Cobb, as it was loosely inspired by some of the hearty salads you may encounter on a drive through the French countryside, while still retaining (at least in essence) much of what we love about the classic American Cobb salad. For this one, we toss fresh, crisp, chopped romaine and baby spinach, with red onions, and mustard-shallot vinaigrette. That's right, no change to this classic Mendo dressing. We love it just the way it is! That's just the base though, next comes the fun part, where we load on the "a bit more adventurous than the usual cobb" toppings. We add crispy bacon (ok, nothing unusual about that), roasted asparagus, roasted green onion (ok, here we go!), pickled peppadew peppers (big flavor pop, go on!), grated gruyere cheese (a type of swiss, so buttery and yummy), grated boiled egg, and just a light sprinkling of those Mendo krispies for a lil' addictive crunch. This craveable salad is rustic, hearty, and manages to scratch that Cobb itch in a uniquely Mendo way. Will you let your tastebuds run wild with our new Countryside Cobb?
About a year ago we introduced a deli side that was such a big hit, I've been plotting to bring it back every since. When it first debuted, we called it "Beets & Black Barley", but this time we are making it with heart healthy whole-grain farro, instead of the black barley, and so it's new name is (you guessed it!) "Beets & Farro". It's a hearty grain based salad with diced pickled beets, fresh apples & oranges, goat cheese, pistachios, and our own farmhouse vinaigrette. I love the hearty textures of this side salad. The farro is toothsome and satisfying to dig into, the goat cheese adds creaminess, the pistachios add nuttiness, and the fruit adds little hits of sweet…all to balance and support the slightly earthy, acid pop of the pickled beets. Like last time, this guilt-free pleasure will most certainly make it into my belly several times a week.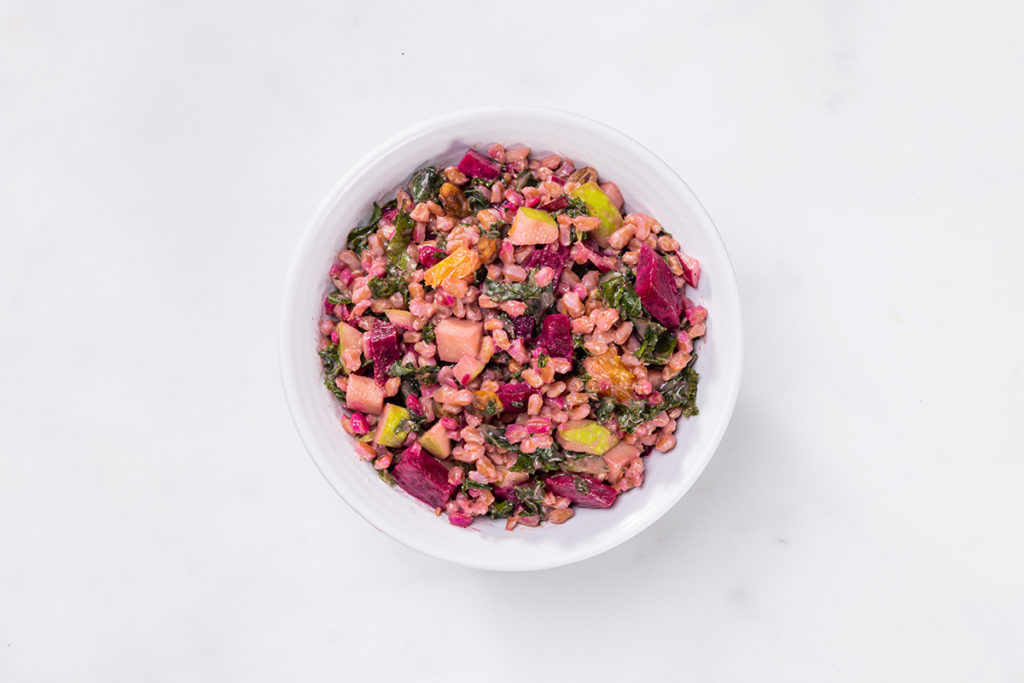 The Spicy Dijon Potato Salad is a classic Mendo recipe that we've been revisiting for many years. It's simple and straight to the point. Just a really good potato salad with a touch of heat from sriracha, and a touch of umami from the Dijon mustard. You can rest assured it will be made with that "mashed potato consistency" that we've become famous for in all our potato salad recipes.
And no winter month would be complete without hot hearty soups to warm your cheeks. We will feature our Creamy Potato Leek Soup and our Vegan Chili. Both are timeless Mendo Classics…safe bets to put a smile on your face.
I hope you enjoy and EAT HAPPY,
Chef Jeremy Bringardner