We appreciate your love and support of Mendocino Farms, and want to share updates and commitments with you surrounding our response to COVID-19 as we have them available.
For store hours and service updates, please visit our LOCATIONS page.
---
Mar 17, 2021 Update
SOUTHERN CALIFORNIA SPECIFIC UPDATE
As of today, we'll be opening back up for dine-in at 25% capacity at our Los Angeles, Orange County, and San Diego locations.
We'll be staying in strict accordance with local health & safety regulations, and continuing to hold ourselves to the highest standards to keep our guests and team members safe.
Please come join us for in-store or patio dining soon in these markets! Stay safe!
---
Jan 29, 2021 Update
CA SPECIFIC UPDATE
We're excited to share that as of January 29th, 2021, our patios are back open for distanced dining at all of our stores with patios!
We'll also be shifting back to in-store ordering and online order pickup. We continue to hold ourselves to the highest standards when it comes to the safety of our team and guests.
We look forward to serving you soon!
\
CA SPECIFIC UPDATE
In accordance with the most recently released COVID safety regulations, all California restaurants will be moving to our new outdoor service model starting Monday, December 6th.  We'll continue to provide order pickup and delivery, but will no longer be allowing guests inside of our stores. All ordering and pickup will take place outside. We hope to see you soon!
---
Nov 25, 2020 Update
As the rise in COVID cases continues, we wanted to take a quick moment to update you on our health & safety commitments. We know that food is essential during this time, and we want to make sure that we can continue to be a resource for you and your family as we continue to navigate a difficult period of time.
Here are our commitments each and every day to you and our team:
LOS ANGELES SPECIFIC UPDATE
We're also going to be rolling out a new service model in the Los Angeles market starting Friday, November 27th, in response to the latest restriction on outdoor dining. We'll continue to provide order pickup and delivery, but will no longer be allowing guests inside of our stores. All ordering and pickup will take place outside.
When you visit any of our LA stores on or after Friday, Nov. 27th, here's what you can expect:
We hope to serve you safely soon!
Be well,
The Mendo Team
---
We continue to be committed to the health and safety of our team and guests as we continue to navigate the realities of COVID-19.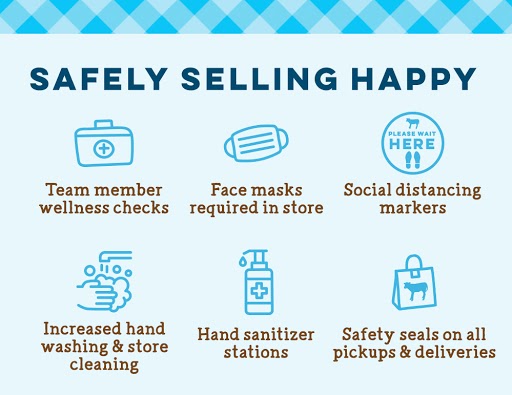 Given CA state-wide regulations, all of our California stores have moved to PATIO ONLY dining. In addition to patio dining, you can still get your Mendo fix by ordering takeout, delivery, or catering.
If you haven't tried our curbside pickup experience, download our app today and enjoy a seamless, contactless pickup experience. We want to make it simple and safe for you to EAT HAPPY.
Please visit our locations page for a complete list of store hours and service updates for your local Mendo.
---
July 1, 2020 Update
In compliance with local ordinances, we'll be moving to PATIO ONLY dining in Los Angeles, Orange County, and Ventura County (effective immediately). In addition to offering dining on our patios, we'll continue to offer takeout, delivery, catering, and curbside where available. Come EAT HAPPY with us on our patios!
Please visit our locations page for a complete list of store hours and service updates for your local Mendo.
---
May 27, 2020 Update

Our stores haven't felt the same without you these past few months. So it's with great joy to share that we are beginning to re-open our dining rooms over the next few weeks, in accordance with local ordinances and guidelines. Please visit our locations page for a complete list of store hours and service updates for your local Mendo.
We understand that every day continues to be a learning experience when it comes to figuring out personal comfort boundaries, and we want to make you feel safe and happy when you dine with us. Here are some changes we're making that you can expect to see next time you visit:
IN STORE
Limiting seating and adding floor decals to encourage social distancing
Ordering and paying in one step at the register to decrease touch points
Removing deli case sampling & self-serve drinks
Adding contactless pay with Apple or Google Pay
Adding sanitizer stations & continuing to regularly sanitize all high-touch surfaces
CATERING
We have also made some modifications to our catering offerings to provide additional safety for you.  Not only do we continue to offer a variety of boxed lunch options which offer a simple and safe way to enjoy Mendo, but, for our sandwich packages, we have added some increased safety measures including:
Individually wrapping sandwiches in all sandwich trays
Individually packaging forks and serving utensils
We are also able to make your catering package even more individually packaged upon request – just talk to your Catering Specialist at your local Mendo! We want to make sure we continue to cater to your needs.
GENERAL HEALTH + SAFETY
In addition to these changes, we'll be continuing to practice our best-in-class standards for cleanliness and safety (as outlined below in the April 16th, 2020 update). Please also note that we will be requiring guests to wear masks in store where required by law. Thank you for your understanding and for helping us make our stores a safe place for all!
We look forward to serving and seeing you soon!
---
April 16, 2020 Update
We're continuing to follow our best-in-class safety and sanitation procedures, as well as rolling out some new best practices in order to ensure the health and well-being of our team members and guests. We are committed to:
Conducting daily team member health checks, and sending team members home if they aren't feeling well to use available PTO
Requiring all team members to wear masks, supplied by Mendo
Adding security and tamper-proof seals to all takeout and delivery orders
Providing contactless pickup options: online ordering and curbside
Increasing hand washing and glove changing – hands are washed and gloves changed when a team member changes a task, or at minimum every 30 minutes
Increasing the frequency of our cleaning and sanitation procedures, especially in high-touch areas
Thank you for allowing us to safely continue to sell you happy during this time!
---
March 13, 2020 Update
To our extended Mendo family:
Ever since we first opened our doors 15 years ago, we have been driven by a singular mission to support our people, our partners, and the communities we serve. Even on hard days, our work is easy because we know that we aren't just serving sandwiches and salads, we are building meaningful relationships and creating welcoming neighborhood gathering places. As we all take the necessary precautions to protect and distance ourselves for the greater good during this uncertain time, we believe it's more important than ever to remember the meaning of true togetherness, which we can all practice regardless of our physical circumstances.
Just like all of you, we share in the growing concern about the spread of COVID-19 and we are carefully following guidance issued from global, national, and local health agencies as the situation evolves. To continue serving you safely, our exceptional team is maintaining our already best-in-class health and safety procedures and we have put additional training, communication, and resources in place including:
Implementing increased sanitation procedures throughout the restaurant, especially for high-touch areas, and continually reinforcing proper handwashing and frequent glove changing.
Operating with flexibility on our Paid Sick Leave and employment policies when it comes to team members and their needs during this troubling time, and requiring team members exhibiting illness symptoms of any kind to stay home.
Moving all food packaging, napkins, and utensils behind the counter and implementing the use of safety seals on all to-go orders.
Creating solutions for our catering clients by maintaining our flexible catering cancellation policy and offering individually served boxed lunches as an option.
Continuing to offer online ordering so you can enjoy contactless pick-up, and providing convenient delivery through a variety of delivery partners in case you need or prefer to stay at home.
Being prepared to implement additional precautionary measures if necessary as we learn new information.
Today and every day, our actions are guided by our responsibility to provide a safe and welcoming gathering place for our community as well as a fair and supportive workplace. We are all in this together and no matter what, we will continue to operate with the greatest level of thoughtfulness, care, and transparency to continue earning the trust of our guests, team members, and vendors. We will share any additional updates on our blog, and if you have any additional questions or concerns, we invite you to reach out to [email protected], where we personally respond to every inquiry.
Sincerely,
Kevin Miles
CEO, Mendocino Farms