The new year is here, and I'd like to help you ring it in with our adventurous new menu items! So pack your bags because we're off to my favorite flavor destination in the world…Southeast Asia! We're not going fully traditional, but rather borrowing inspiration from the wealth of vibrant flavor profiles and riffing in typical fun Mendo fashion.
Starting with our Sweet Heat Thai Crispy Chicken Sandwich, which is vibrant in color, full of satisfying textures, and wildly flavorful with intersecting tastes of sweet, sour, salty, and spicy. We season the cabbage slaw with fish sauce, as well as Thai basil, sugar, and salt, to encapsulate the essence of Thai cooking. There is a swipe of creamy, spicy sriracha mayo on the soft, lightly toasted sesame brioche bun. The air-fried crispy chicken tenders are glazed with our sweet chili sauce and toasted chili oil, and topped with a layer of fried shallots for double the crunch. The layers of chili heat are balanced by cooling layers of acidity and sweetness. If you're a fan of the Nashville Hot sandwich craze, I think you'll find this sandwich scratches the same itch, while taking your taste buds on a refreshing escape to a new destination.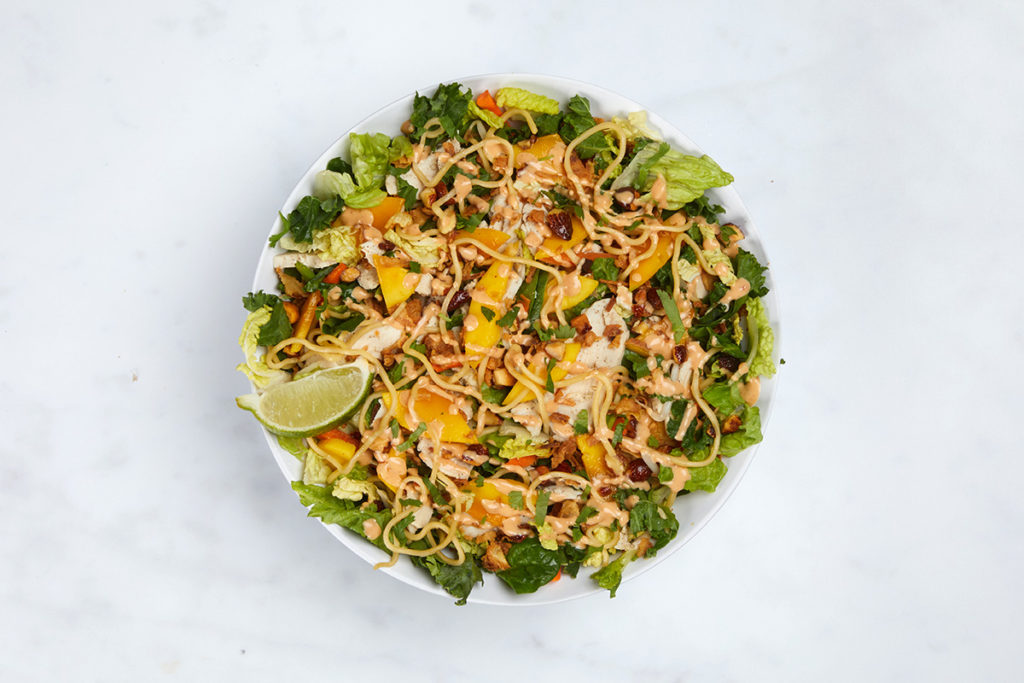 Next up is the Thai Mango Salad. Now of course we didn't invent the idea of putting mango and Thai flavors together into a salad, but we have followed this trend and created several versions over the years, and I have to say, I think we have finally perfected it! We toss chopped crispy romaine, baby spinach, shredded cabbage, and pickled daikon & carrots with chilled ramen noodles for the base. Then we dress it with a Thai almond dressing that is creamy, nutty, umami, sweet, sour, salty, and a little spicy. We hand tear fresh mint leaves, fresh cilantro, and fresh Thai basil and toss that in to create depth by adding aromatics (high notes). Then we pile on sliced, roasted chicken breast, chunks of fresh, juicy mango, crispy fried shallots, crunchy honey roasted almonds, and fresh lime. If you're looking for a cure to boredom, look no further. This salad is a texture party, with a full flavor spectrum dressing that will sweep you off your feet (we hope). So take a bite, close your eyes and escape to your happy place.
Last, but not least, let me tell you about our newest deli side, the Beets & Black Barley Salad. It's a hearty, healthy side with whole grain black barley, roasted-marinated red bed beets, fresh diced apples & oranges, kale, red onion, pickled golden raisins, toasted pistachios, and goat cheese, which is mixed into our farmhouse balsamic vinaigrette to add a smooth and sophisticated texture. This one brings us back closer to home, and keeps us grounded by providing a nice healthy afternoon snack or as a complement to any sandwich.
I wish you all a wonderful year filled with fun, tasty, culinary adventures. And as always, we hope you EAT HAPPY!
Sincerely, 
Chef Jeremy Bringardner